Hair Care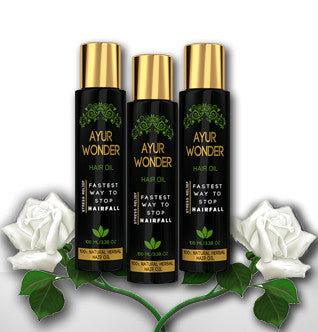 Every so often, the easiest solutions are right under the nose, just waiting to be tapped. Ayurveda is one such answer to all of your health and beauty concerns. Originated in India some 3000 years ago, Ayurveda is the oldest form of medicine in the world. This system uses the natural power of herbs and is known for weaving a powerful magic that heals a variety of ailments. We, at Ayurgenie, are here to bring to you some of Ayurveda's best recipes to deal with everything from a pimple-prone skin to thinning hair.
First things first... More than anything else, hair fall poses a bigger threat to men and women alike. And with new promises made every day on the Television ads about regaining lost hair, we end up doing the wrong thing or doing nothing at all. Choose to be 100% natural. Choose AyurWonder™. This zero-chemical hair oil is made with the goodness of super herbs in their purest forms to nourish every hair strand, strengthen roots and keep hair fall to a bare minimum. With its pleasant fragrance, this all-herbal hair oil also ensures a sound sleep night after night. If hair oil doesn't sound like you, a hair cream is in the making and will be offered in a few months' time. The hair cream works just as well, minus the slick! What more could we ask for?
Hair fall is a different story altogether. But, let's face it... What if a receding hairline turns out to be bald? After all, hair fall and baldness are two different things as night and day. Worry not! Our BaldCare oil can work the trick. Fortified with growth-stimulating herbs, this oil activates dormant follicles to give new hair in just 3-4 months. And the best part is, it really works!
Try our ingenious products and join the club of Ayurveda fans today! Because, nothing beats the feel of being beautiful in our own self the natural way!